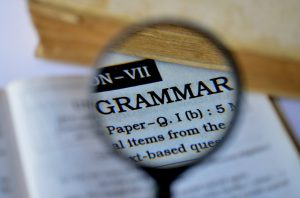 Have you always been afraid of English grammar?
Has the word "Grammar" always made you think of your boring high-school classes?
Don't have a clue why I have used "Have" and "Has" in the above sentences?
We know that grammar is one of your major problems and we are here to assist you!
This workshop is definitely not another high-school grammar training, but provides you with tips and tricks to finally understand the rationale behind the English grammar ,so that you will be able to utilize it better while speaking and writing. The workshop highlights the grammar that is being used in different business situations (e.g. business meetings, small talk settings, conference calls, etc.). We like to call this unique methodology – Situational Business Grammar ©
Syllabus:
Why is the workshop essential?
It concentrates only on the most essential grammar tips and not the full English grammar.
It is focused, practical and without extensive grammar explanations.
It was created following a thorough field research on the "fears of grammar and how to eliminate them".
It is a must-have tool for every person whose English isn't his/her mother tongue.
It provides user-friendly, clear and understandable grammar anecdotes that are necessary for both speaking & writing.
It highlights the most commonly used grammar mistakes ESL (English Second Language) people make and underlines how to avoid such errors.
It is a "one-stop-grammar-shop" that eliminates the feeling of discomfort and simplifies complicated grammar rules.
Some major topics include:
The most important parts of speech.
The formation of a correct sentence structure.
The "Fabulous 8" (the only tenses you really need to know…).
Learning how to love & appreciate "prepositions".
Understanding why the "Perfects" are really so perfect.
Situational Business Grammar © – different tenses for different business situations.
Staying "Active" and not "Passive".
Tolerable vs. intolerable grammar mistakes.
"Conditionals" with no conditions.
Common grammar mistakes & errors.
The grammar Americans use vs. the grammar ESL (English Second Language) people use:
– Do Americans use the same grammar tenses ESL people use?
– What tenses do Americans concentrate on when speaking and writing?
– What tenses should ESL people always use, but in fact NEVER use?
– What do Americans consider as "tolerable" grammar mistakes and what do they consider as "intolerable" grammar mistakes?