Having problems delivering a professional presentation in English?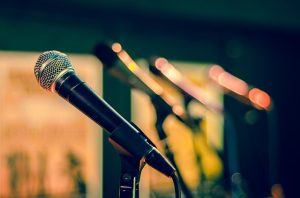 Don't know how to structure a winning presentation?
Can't get your audience's attention?
If presenting in English makes you nervous, this 2-day workshop is exactly what you need!
Organization & Preparation Tips
Top 5 questions you should ask before you even open up PowerPoint
Knowing your audience
The 3 C's (Content, Content, Content)
The K.I.S.S Principle
"So What?" – The Relevance Principle
Checking for clarity – passing the "Elevator Test"
The Art of story-telling
Gaining confidence
Delivery Tips (The "S" Principle)
Showing your paSSion
Starting Strong
Staying Short & Simple Stupid
Standing cloSe not Still
Signaling by preSSing "B"
Sensing & Smiling
Sorting your Slides
Non Verbal Communication
Body Language is a "Language"!
First impressions
Eye contact
Posture
Facial expressions
Use of voice
Structuring a Professional Presentation
Opening & Introduction

What to include in the "Introduction"?
How to capture your audience's attention?
The value of a strong opening statement
Key phrases

Body

What to include in the "Body"?
Signposting
Focusing attention
Maintaining a consistent flow
Managing time effectively
Key phrases

Conclusion

What to include in the "Conclusion"?
Summarizing & closing
"Ending with a strong ending"
Thanking your audience
Inviting questions
Key phrases
The Q&A Session
The importance of having a Q&A session
Dealing with audiences from different cultures
Handling difficult questions
"Survival Language"
Key phrases
2nd day:
Live presentations (delivered by each participant).
Q&A sessions following each presentation (audience interaction).
Presentations' evaluations (group dynamics) facilitated by the trainer.